Raleigh, North Carolina--News and Observer
February 15, 1998
"SONGS OF SOL," by David Menconi
Mojo Fighting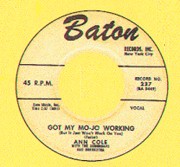 Perhaps the most enduring song in the Baton catalog is "Got My Mojo Working (But It Just Won't Work on You)," written by Preston Foster and first recorded by singer Ann Cole in 1957. Rabinowitz still owns the copyright to "Mojo" through his publishing company, Dare Music, but he has had to fight for it more than once.
His first antagonist was Muddy Waters, who also claimed to have written "Mojo" and put our a version on Chess Records the same week as Cole's version on Baton. While Cole's blistering version was more popular at the time, the song has since come to be associated with Waters.
According to Sandra Tooze's just-published Waters biography, "The Mojo Man," Waters was on tour with Cole and appropriated the song after hearing her sing it (which was why Rabinowitz always pleaded with his artists not to perform unreleased material). Eventually the matter went to court, where it was ruled that Foster was indeed the composer -- although "Mojo" sometimes still shows up credited to Waters.
That would not be the last legal challenge.
"Preston Foster is one of the shyest human beings I've ever met," Rabinowitz says. "One time we were in the midst of a lawsuit with this terrible woman from California who claimed she owned 'Mojo,' and we wound up in federal court. She was trying to bribe people. It was awful. Preston was supposed to testify and after my lawyer met him, he said, 'We're gonna have to do something else. We can't put this guy on the stand.' We won that case anyway.
"Every six months I send Preston a check. He's basically still making a living from this song, which still earns $20,000 to $30,000 a year. I would guess it's been recorded by 150 or 200 artists, from Elvis Presley to Jimmy Smith. It's been done overseas a lot, too. I just received a CD from my Swedish licensee. One of the top blues singers in Sweden just recorded it with Swedish lyrics, and it's great."