First Studio Session
The first session cost me all of $250; during which I recorded four songs by the Rivileers, five young men from Jamaica, NY, who were neighborhood friends and high school buddies. I had heard a demo they left in a record shop with the hope that someone from a record company would hear it. In the 50s young black men with musical aspirations used this method regularly as a means to expose their music. Contained on the demo was a version of "A Thousand Stars," the Rivileers' and Baton's first record and first hit.
I had never been inside a recording studio before I made this record, but I was an avid fan of R&B music, earlier called Race and Sepia. As a record salesman for a prominent NY distributor, I had become steeped in a wide variety of popular music and eventually became the "ears" of the company; that is I was trusted by management to decide which of the new releases received each week would be promoted heavily.
For this first session I hired the only musician I knew who could arrange music professionally, a white pianist/arranger who had been an accompanist for Frankie Lane. He had told me of his acquaintance with many top musicians and I thought he could put a good band together. As it turned out we wound up with a group of wonderful jazz players who had never even heard an R&B record, nor for that matter had the arranger.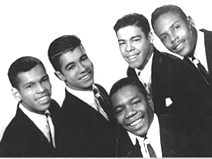 Somehow, despite the fact that the arranger and the musicians thought I was deranged when they heard the music we were to record, (the arranger admitted this to me later), we managed to capture the essence of the Rivileers songs and especially "A Thousand Stars." Due to my inexperience, nerves and the chaos in the studio, I left that night feeling we had failed to achieve anything credible. I was despondent. It wasn't until two days later when I heard the acetates from the session that I realized we had at least one very good record.

Now I had four masters and no idea what to do with them. A friend introduced me to the owner of Rainbow Records, Eddie Heller, who had a successful Latin record company, doing well with Mambos and ChaChas. He had also released a few R&B records. Rainbow was considered an established independent label. It was my intention to sell Heller my masters if he liked them. I had a fairly lucrative job and wasn't thinking of leaving it. I played Heller the songs. He listened intently and seemed to like what he heard. When we discussed a deal and which songs he planned to release first, I was shocked. Heller chose for the first single the two poorest songs in the session, neglecting "A Thousand Stars" altogether, which I felt was our best chance for a hit. I left his office after telling him I would think about it, and said to my friend while standing in the street outside the building, "If that's all you have to know to run a successful record company, I'm going into business."

Baton was under way shortly thereafter. I took an acetate of "A Thousand Stars" and boldly walked into the WWRL studio of "Dr. Jive" (Tommy Smalls) the hottest R&B disc jockey in New York at the time. Strolling in while he was on the air doing his afternoon show, but acting as if I belonged there, I waited until he put a record on the turntable, and explained that I had the first record from my new company, which I wanted him to play. He politely suggested we meet in the bar downstairs as soon as he got off the air. Tommy turned out to be very pleasant. I bought him a beer, told him a little about myself, and left the acetate with him.
That night my telephone started ringing almost as soon as I arrived home. Friends from a number of record shops were calling to report sudden demand for the Rivileers and "A Thousand Stars," telling me that "Dr. Jive" had played it twice on his evening show. I knew enough of the record business by that time to understand that such immediate consumer reaction meant we had a hit. Baton was off and running. It was a heady time for a salesman with a sudden aspiration to own a record company.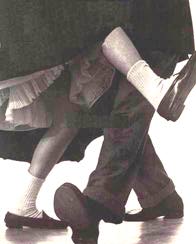 Baton's first three releases were all successful. This is an easy business, I thought to myself; I should have done this sooner. "A Thousand Stars" reached #1 on the Los Angeles R&B chart and appeared in the Top Ten in many major cities even though we then had limited distribution. The Rivileers second record also made the charts although it had less sales. Our third record was by the wonderful tenor sax man, Buddy Tate and his band. After leaving Count Basie he had formed a band of his own and played regularly in Harlem's Celebrity Club where I heard him. Buddy and the band were playing exciting dance music which bordered on R&B. His record was an immediate smash on Philadelphia's "Bandstand Show," the forerunner of Dick Clark's top rated network TV dance show.
After the early blush of success, I soon learned the business was not quite as easy as it first seemed. We went six months without a hit, and I was beginning to wonder if we'd ever have one again. But finally the Rivileers recorded a standard they had been singing for some time, "(I Love You) For Sentimental Reasons," and we were off again.

By this time Alan Freed had arrived in New York on WINS, a major pop station of this period. He made an immediate impact in the entire New York metropolitan area playing R&B music for a mainly white teenage audience. He called it "Rock 'n Roll," and widened an already growing market among white youth for black music. He is generally given credit for starting this trend, but the truth is that "Dr. Jive" and other black DJs of the time had a growing white segment of their audience before Freed arrived on the scene. It had been slowly happening nationally for a couple of years. Freed and his collaborators saw the trend and jumped on the band wagon in a big way. The WINS signal being so much stronger than any of the smaller black stations in New York, he was heard by many more people and sold his records to a wide audience. His success brought black music to the fore throughout the country, and eventually the world.
I had contacted Alan Freed while he was still in Cleveland, where he pioneered his show, and was first to greet him when he arrived at WINS. We became friends. Both the Rivileers and my new girls group, the Hearts, were numbers two and three on Alan Freed's show with 'Sentimental Reasons' and 'Lonely Nights' respectively. These records brought us new distributors and acceptance for our label throughout the country.

Ann Cole: Award Winning Female Vocalist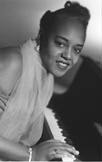 After a whole year of searching I finally located an impressive girl singer I had heard on the radio a few times. I met Ann Cole for the first time in a bar in Paterson New Jersey, and we hit it off. She was accompanying herself on the piano and singing her heart out six hours a night for the princely sum of $50 per week. Her voice was so hoarse she had trouble speaking. We met again at my office and after determining she was free of her previous record company, signed a term contract. At her request I promised to do what I could as her manager, but I refused to take commissions.
I remember vividly my taking Ann to the first job organized for her by Shaw Artists, the major black booking agency I arranged to represent her. It was a rather large club in Brooklyn, about half full. She was not very suitably dressed (my fault as well as hers), and the audience was lukewarm to Ann's first few songs. Then she sat down at the piano, told the band to lay out, and proceeded to sing her own rendition of "Danny Boy," which I had never heard before. Before she was through, a good portion of the audience was in tears, as I was. She had a wildly enthusiastic reception to the rest of her program. One of my greatest regrets is that I never recorded her "Danny Boy."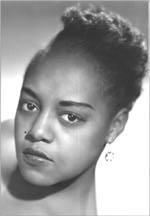 Soon after, we released her debut record for Baton, 'Are You Satisfied,' which was a cover of a country record by Sheb Wooley. She not only received the annual "Most Promising New R&B Female Vocalist Award" from Cash Box Magazine, but was also performing as a featured singer with an all star tour of top black performers and making more money than she had ever seen before.
Ann Cole's second record reached the number two spot on the Cash Box and Billboard charts. "In The Chapel" was a soulful performance which established her as one of the more prominent gospel-based blues and ballad singers in the country. A Benny Goodman representative called me during this period to ask if Ann Cole could be made available to record with the Goodman Band. I was flattered, but when I asked for a royalty for both Ann and Baton, Goodman's interest waned.

Although "Got My Mojo Working" is associated with Muddy Waters, it is Ann Cole who introduced the song, and from whom Muddy learned it. On a month-long tour through the South together, Ann sang with Muddy's band. "Mo-Jo" had not yet been released, (it was recorded in the same session as "In The Chapel"), but despite my warning not to sing unreleased material, Ann taught Muddy's band the song and performed it regularly during the tour. Muddy liked the song so much, on returning to Chicago he played it to Leonard Chess (one of the two brothers who owned the Chess label) as his newest creation and they recorded it. The difference in the lyrics - primarily the verses - between the two versions resulted from Muddy's inability to remember the original words. Leonard Chess, of course, knew nothing of the prior Ann Cole record. Nor did I know of Muddy's record. Coincidentally, both versions were released the same week. While they arrived on the national charts at the same time, Ann Cole's version reached #3, Muddy Waters' Chess record peaking at #7. The song however became associated with Muddy through his adoptation of it as his theme during his many years of touring. more about "Mojo"

Noble 'Thin Man' Watts Goes International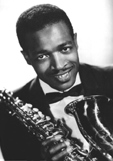 We recorded many blues and jazz instrumentals, but only one achieved national success. "Hard Times" by Noble 'Thin Man' Watts started out entitled "The Slop," a budding dance craze at the time. WHK, the top pop station in Cleveland, Ohio, called us shortly after the record was released to report strong listener reaction to the first play. However, they said they could not continue to play the record with this title, which they claimed was unsuitable for the number one station in Ohio. Realizing we might be jeopardizing a hit, we quickly scrapped the records already pressed, printed new labels and reissued the record with a new title. We used "The Slop" as a subtitle, which seemed to satisfy queasy program directors. "Hard Times" reached the middle of the pop charts, was high on the R&B charts, and sold like a pop record in many cities across the country, with the exception, however, of the major ones. Dick Clark's "American Bandstand" TV show had by this time developed a disproportionate influence, not only on the creation of hits, but also on the choice of records played by major city disc jockeys. If it wasn't on the Dick Clark show, most major DJ's were not interested.
Although I contacted Dick Clark and his people many times on behalf of "Hard Times," he never used the record once. It was one of the few Baton records released internationally, however. Ironically, although Clark played Noble 'Thin Man' Watts' next release, "Ricky Tick," every day for weeks, it sold minimally.

Baton's fortunes waned (along with those of most other independent labels) with the entrance of the major film companies (MGM, UA, Warner Bros., Twentieth Century Fox) into the record business. As new companies they began using the same established independent distributors to sell and promote their records as Baton and other small companies did. The film companies' resources and heavy release schedule eventually commanded the loyalty and efforts of my distributors. From valued business partners we became excess baggage. When we began having trouble collecting our bills, I saw the handwriting on the wall, and was one of the first independent labels to call it quits. I walked into the office one day, removed the files, and closed the door on an incredible experience.

Throughout most of the decade of the '50s, Baton, along with many other independent labels, was a regular contributor to the R&B scene which influenced pop music to this day. It eventually gained a mass audience and brought black performers out of the ghetto. Much of today's popular music, both black and white, traces its origins to that time.